Inside The Mind Of An Innovator: How Dr. R. Rox Anderson Discovered CoolSculpting
Sponsored by Allergan/CoolSculpting | January 08, 2020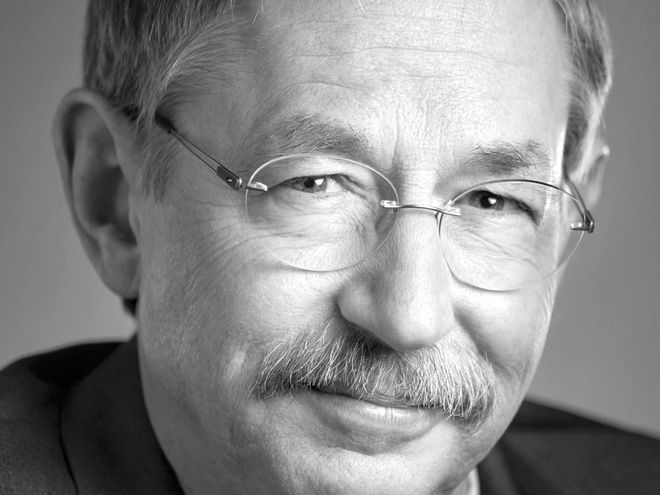 Within the cosmetic dermatology world, there are few names that garner as much respect as Dr. R. Rox Anderson. The Lancer-Endowed Chair of Dermatology, Professor of Dermatology at Harvard Medical School, and Director of Wellman Center For Photomedicine at Massachusetts General Hospital is responsible for one of the most innovated device launches over the past two decades. After all, he's the man behind CoolSculpting, the non-surgical fat-reduction technique that transformed the way dermatologists help patients reduce stubborn fat. This is one of the many reasons why Dr. Anderson's a recipient of the NewBeauty Innovator Award.
To further honor his achievements, we talked with his colleague, Dr. Mathew Avram about Dr. Anderson's ah-ha moment for CoolSculpting, his enduring legacy, and what's on the horizon in the world of cosmetic dermatology:
NewBeauty: You've worked with Dr. R. Rox Anderson for fourteen years, can you shed any insights on what led him to pursue a career in dermatology?
Dr. Mathew Avram: He was not always a physician, so he's done other things in life other than being a doctor. Dr. Anderson went to MIT [where he received his Bachelor's in Science], and then pursued a bunch of interesting things after that. One was working as a teacher, and the other was a camp director. Ultimately, he got into medicine, and I know he was deciding between ophthalmology and dermatology, eventually decided on dermatology.
NB: Can you take us back to the early days and tell us how Dr. Anderson came up with the idea for CoolSculpting?
Dr. Avram: Basically, the idea for CoolSculpting came from an article in the New England Journal of Medicine that discussed how children were losing fat in their cheeks when they were sucking on popsicles. Rox is incredibly creative, incredibly smart, and incredibly persistent and hardworking. Most of us would read an article like this and say, "Oh that's really interesting," and then go on with our days. Whereas, Rox sees an article like that and figures out a way that it can actually benefit patients in some way — and that's exactly what happened. When he sees a solvable problem that he's interested in, he really thinks about it, he approaches it scientifically, and he's very creative, learning from all the experiments he does along the way. He's so persistent, he ends up changing the way that we practice medicine. That's kind of the Rox way.
NB: After he read the article, what was the process developing the CoolSculpting treatment like?
Dr. Avram: From a very general standpoint, he got the idea and then they [Dr. Anderson was working with Dr. Dieter Manstein at the time] tested it to see if it worked on samples of fat. They did animal studies, and eventually human studies. I can tell you as someone who was on the advisory board, that there were times when things looked extremely promising and transformative, and then there were other times where it looked like this may not pan out. Ultimately, they were successful after a lot of work and a lot of trial and error.
NB: How was the discovery first received by the medical community?
Dr. Avram: People were skeptical about it because they thought that it seemed too good to be true. Others thought it would be safe.
That changed when doctors saw that people using it were getting good results and that patients were happy. It made them realize that this is something they wanted in their practices. CoolSculpting is a safe and effective way to reduce stubborn pockets of fat. CoolSculpting® is FDA-cleared to treat 9 different areas of the body: visible bulges under the chin and jawline areas, thighs, abdomen and flanks, along with bra fat, back fat, underneath the buttocks, and upper arms. Some common side effects include temporary numbness, discomfort, and swelling. Individual results and patient experience may vary.
NB: Since CoolSculpting's debut, how has the approach to non-surgical fat reduction procedures changed?
Dr. Avram: There's been a real change in the way that we treat fat. Before CoolSculpting, generally speaking, the way to remove fat was invasive and surgical. CoolSculpting was a paradigm shift in that you could safely, effectively, and relatively comfortably reduce fat without cutting the skin. That was a totally new concept, and it completely changed the way we looked at fat reduction. It also changed the way patients look at cosmetic treatments, because they realized they could do something with little to no downtime during the lunch break and get real results.
NB: What discoveries are you and Dr. Anderson most excited about now?
Dr. Avram: There are several things that Rox has worked on over the last few years that I find really exciting. One is known as tissue copying. It's when you harvest tissue from one area, in a fractional manner, so that it doesn't leave a scar, and then use that tissue to help cover an existing scar, improving its appearance. Another thing, which is currently in the FDA process is a product called Cytrellis. This is fractional tissue extraction. Rox developed all the fractional lasers, and fractional lasers keep a small, a percentage of the skin but leaves the surrounding skin untreated. What Cytrellis does is that it removes a fraction of the skin, and it takes little punch biopsies, minute ones, from all over the face and by doing hundreds and thousands of those little punches. It's like a facelift, but not quite as effective.
NB: As a colleague, how do you see Dr. Anderson's legacy?
Dr. Avram: I see him as the most important innovator in the field of dermatology in the span of my career. He has done this for decades, he does it now, and he will continue to do so in the future by revolutionizing the way we practice medicine. And for Rox, the most important thing at the end of the day is [that what he is doing is] benefiting patients. While we talk a lot about his cosmetic advancements, he's most passionate about medical treatments that affect the lives of patients by solving their problems. He is just as innovative, just as smart, and just as hardworking now as he was when he was a whiz kid in the labs here at Mass General a few decades ago.
NB: Is there anything else readers should know about Dr. Anderson and why he's so deserving of the Innovator Award?
Dr. Avram: I have worked side by side with Rox at the Mass General Laser Center every week, for the past fourteen years, and he is an excellent clinical dermatologist. He brings this passion for patient care and his inquisitiveness about patient problems to each patient encounter he has. He takes his time to get to know his patients, to help his patients, and to teach the future generation of dermatologists how to approach patients. For all of his amazing innovations and inventions that have transformed our field, the one thing that's overlooked is what an outstanding clinician he is, how good he is to his patients and what great care he provides to them.
Interview Credit: https://www.newbeauty.com/blog/dailybeauty/13100-how-dr-r-rox-anderson-discovered-coolsculpting/
The CoolSculpting® procedure is FDA-cleared for the treatment of visible fat bulges in the submental (under the chin) and submandibular (under the jawline) areas, thigh, abdomen and flank, along with bra fat, back fat, underneath the buttocks (also known as banana roll) and upper arm. It is also FDA-cleared to affect the appearance of lax tissue with submental area treatments. The CoolSculpting® procedure is not a treatment for weight loss. Important Safety Information. The CoolSculpting® procedure is not for everyone. You should not have the CoolSculpting® procedure if you suffer from cryoglobulinemia, cold agglutinin disease, or paroxysmal cold hemoglobinuria. Tell your doctor if you have any medical conditions including recent surgery, pre-existing hernia, and any known sensitivities or allergies. During the procedure you may experience sensations of pulling, tugging, mild pinching, intense cold, tingling, stinging, aching, and cramping at the treatment site. These sensations subside as the area becomes numb. Following the procedure, typical side effects include temporary redness, swelling, blanching, bruising, firmness, tingling, stinging, tenderness, cramping, aching, itching, or skin sensitivity, and sensation of fullness in the back of the throat after submental or submandibular area treatment. Rare side effects may also occur. CoolSculpting® may cause a visible enlargement in the treated area which may develop two to five months after treatment and requires surgical intervention for correction. Please see full Important Safety Information for additional information.